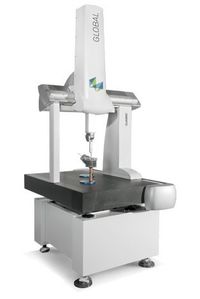 QUALITY
To ensure the quality of products in line with current standards, our products and all processes are constantly monitored.
We are newly equipped with the modern 3D measuring instrument DEA GLOBAL Classic in the X 900 measuring axes; Y 1500; Z 800 Accuracy: MPEE = from 2.2 + l/300 μm.
GLOBAL Classic is a multipurpose coordinate measuring machine to control the dimensions of various components. The machine is equipped with touch probe probes and scanning.
The scanning version also uses improved performance. The structural temperature compensation of CLIMA ensures excellent accuracy over a wide range of temperatures.
GLOBAL Classic is an effective solution for dimensional quality control.
TRACEABILITY OF PRODUCTION BATCHES
Thanks to the internal order tracking system from its receipt to delivery to the customer, we also have the perfect tracking of production batches.