Labara is the holder of the ČSN EN ISO 9001:2009 and EKOKOM certificates.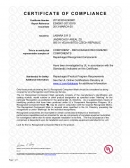 17.9. 2018
From 11 to 13 September 2018, LABARA s.r.o. and LABARA CABLES s.r.o. 31th International Trade Fair of Electrical Engineering ENERGETAB 2018 in Bielsko-Biala, Poland.
11.9. 2018
Dear customers, We would like to thank you for participating in this year's INDUSTRY DAYS 2018 exhibition in Budapest.