Labara is the holder of the ČSN EN ISO 9001:2009 and EKOKOM certificates.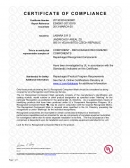 8.10. 2018
Dear business friends, Thank you for visiting our stand at PLASTEX 2018, which took place within the 60th year of the MSV in Brno and we wish all the many successes both in…
17.9. 2018
From 11 to 13 September 2018, LABARA s.r.o. and LABARA CABLES s.r.o. 31th International Trade Fair of Electrical Engineering ENERGETAB 2018 in Bielsko-Biala, Poland.