Flexible insulation, adhesive tapes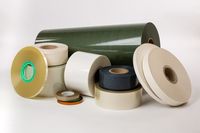 Flexible insulating materials are used in electronic and electrical applications for electrical and mechanical protection.
---
Flat insulation is available in temperature classes A - 105 ° C, B - 130 ° C, F -155 ° C, H - 180 ° C. We supply materials in standard widths: 450 - 914 (990) mm or we divide them according to the customer into the required width.
Flexible insulation can be feathered, shaped, pressed or punched.
We supply DuPont materials: Mylar®, NPN, Kapton®, Nomex®.
We cooperate with COVEME company, which is a manufacturer of flexible insulation DyFlex®, DyTerm®, DyTerm® K, DyBond®, DyFilm®, DyFilm®HB / HBB, DyVolt® for electric motors, generators, transformers, photovoltaics, etc.
www.coveme.com



Catalog for downloading

Other types of flat insulation include Prespan and electrical cardboard in sheets.