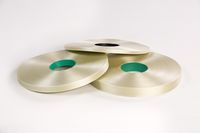 Thermal class F 155 °C and H 200 °C
APPLICATION:
Glass Banding Tapes are suitable for all types of bandage and replace steel wires on all types of fittings - including traction, large generators, motor generators, traction motors for locomotives and diesel locomotives, for rotors on electric motors and can also be used as tapes for tying wound coils and to provide dry transformer columns or oil bath columns. It consists of longitudinal glass fibers which are impregnated with resin.
It has high tensile strength and impact strength.
STORAGE: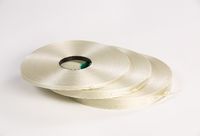 24 MONTHS at 10 °C
PACKAGING:
100 m, 200 m
Commonly available widths: 10, 20, 25, 30 mm
TECHNICAL DETAILS:
Thickness: 0,30 +/- 0,03 mm
Resin content: ≥90%
Dielectric strength: ≥12 KV/mm
Loss of tensile strength after soaking with oil ≤10