Solder Mask - Solder Pallet
Durostone® PCB Solder Pallet Materials

Durostone® PCB Solder Pallet Materials:
Durostone® materials have been developed for all procedures within the PCB assembly process. There are three main grades which are suitable for use in wave soldering processes, Durostone® CHP760, CAS761 & CAG762.
These materials offer the following features:
Excellent mechanical properties at elevated temperatures including the lead-free process
Low thermal conductivity
Excellent machining properties enabling the manufacture of complex design solder pallets
Good resistance to chemicals used in modern fluxes
Durosto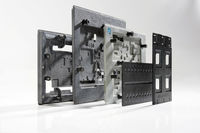 ne® Harsh environments:
A combination of flux, temperature and process cycles can result in the degradation of the standard Durostone® grades of material.
The solution is Durostone® CFR767: excelent for use with aggressive fluxes and high process temperatures.
The resin used to produce Durostone® CFR767 can withstand temperatures up to 300 °C. The decision to use Durostone® CFR767 over one of the standard grades is made when the solder bath temperature exceeds 265 °C and the bottom side PCB pre-heat exceeds 140 °C.
Durostone® CFR767 has excellent flux resistance. When fluxes containing halides or dicarboxylic acids are used in high volume production the lifespan of the standard grades of material can be reduced so Durostone® CFR767 is an ideal solution.
Machining and assembly of solder pallets:
Example of using a simple
soldering mask on a PCB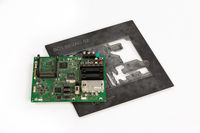 LABARA s.r.o. customized machining and assembly of solder pallets. Production according to drawing documentation and complete technical solution.
Technical data:
DUROSTONE CHP 760

DUROSTONE CAS 761

DUROSTONE CAG 762

DUROSTONE CFR767

class

standard

antistatic

antistatic (optic)

Flux Resistant

colour

blue

black

grey

dark red

density (g/cm3)

1,90

1,90

1,90

1,80

flexural strength (Mpa)

360

360

360

380

water absorbtion (%)

< 0,20

< 0,20

< 0,20

< 0,20

coefficient of linear expansion (10-6/K) between 30° and 200°C

13

11

11

11

thermal conductivity (W/m0K)

0,25

0,25

0,25

0,23

Maximum Operating Temperature (°C),
10 - 20 seconds

300

300

300

380

Continuous Operating Temperature (°C)

260

260

260

300

Surface Resistivity (Ω)

-

105 - 109

105 - 109

105 - 109

modul of elasticity (Mpa) @ 23 °C


18,000

18,000

18,000

18,000

Sheet Size (mm)

2440x1220

Thickness' available (mm)

3 mm, 4 mm, 5 mm, 6 mm, 8 mm, 10 mm, 12 mm

5 mm, 6 mm, 8 mm, 10 mm

Thickness Tolerance

± 0,20 mm

Flatness Tolerance * (for a panel size of 300 x 300 mm)


± 0,20 mm

Parallelism

± 0,10 mm