Woven electrical insulating tapes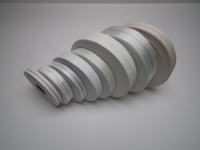 It is produced in linen and canvas. Production in widths of 10 - 60 mm and thicknesses from 0.08 to 0.50 mm.
In addition to thickness, the most important parameter is the temperature resistance class. This is given by the material used. Insulation ribbons are made of cotton fibers (temperature class B), polyester fibers (temperature class F) and glass fibers (temperature class H). New special basalt and aramid fibers are applied.
Insulating ribbons for electrotechnical and thermal insulation and for composite products.
Distribution by base material:
Cotton no. B
Polyester marking DOG
Glass no. WITH
Nomexozn. AND
Distribution by custody:
Woven linen cloth
Woven cloth binding