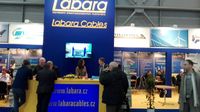 Dear business friends,
We are glad that you have found time and visited our exhibition at the 27th International Trade Fair of Electrical Engineering, Electronics, Automation, Communications, Lighting and Security AMPER 2019 which took place on 20st - 23th March at BVV Brno.
Thank you for all, and we believe that the negotiations and meetings made at the AMPER 2019 will lead to our further business cooperation.

Staff group LABARA, s.r.o.