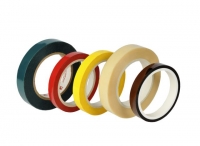 We are the distributor of adhesive tapes for the electrical and electronics industry. Adhesive tapes are manufactured in temperature classes: A-105 ° C, B-130 ° C, F-155 ° C, H-180 ° C. They are produced with the following components: crepe, acetate, polyester, glass, polyimide, nomex, kaladex, PET + fleece, paper + glass, PET + glass fiber, PTFE. Adhesive tapes are cut on the cutting machine - width according to the customer's request.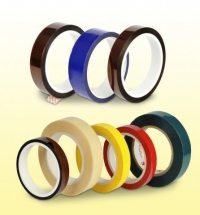 Electrotechnical insulating tapes are important in the manufacture of electrotechnical components. They provide protection and insulation within electrical insulation systems and must resist commonly used resins, varnishes and solvents. Very important is the correct selection of the tape, because bad selection can affect the performance of the component or even worse, causing it to fail.
For the proper selection of electrotechnical tapes, it is advisable to use tables showing electrical, physical, thermal and chemical properties. The tables show the measured average values determined by extensive testing. Tests are established by the European Authority AFERA.
Composition
The electrical tapes are made of two main components - the back side and the adhesive layer. Sometimes they also have a better backing adhesive on the back - a lightweight, non-permeable layer for regular unwinding or a double-sided adhesive layer.
Temperature class
Continuous temperature resistance of the electrode pressure of the tapes depends on the temperature resistance of both components. Each product is classified according to the following table:
| | |
| --- | --- |
| Insulation class | Continuous temperature resistance |
| Y | 90 ºC |
| A | 105 ºC |
| B | 130 ºC |
| F | 155 ºC |
| H | 180 ºC |
| C | 200 ºC |

Classification of adhesive tapes to download here